I'm a post-nationalist except when it comes to playing soccer-football and cheering on
fellow Dutchmen
in their 4-1 masterclass conquest over the French;-) Our
Ocean of Orange
drowned
Les Bleus
today in
Euro2008
!
It was great gameplay too, pretty clean and lots of action, as
others have lauded
. All the goals were very impressive sweet shots, including...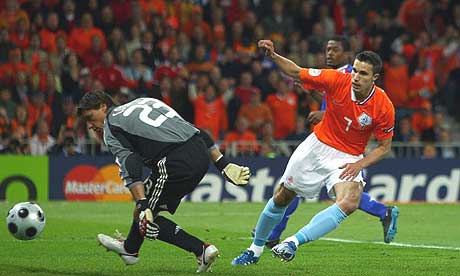 One fan noted
:
The national team represents an attitude towards life. We all stick together and are a massive band of the young and old.
P.S. And this includes the kids! One of the great elements of the Cup are players families and the post-celebrations with the children too...
P.P.S And it also includes host countrymen, the Swiss! Having lost early on in the tournament,
many Swiss are becoming honorary Dutch
, wearing Orange, and urging on the Netherlands team!