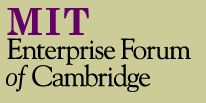 I'm sitting in Kirsch Auditorium at MIT's Stata Center listening to my big idea, incarnate: a wonderful tag-team of two pairs of two generations of entrepreneurs at the
MIT Enterprise Forum of Cambridge
Innovation Series
event...
George N. Hatsopoulos, Founder and Chairman Emeritus, Thermo Electron Corporation
Marina Hatsopoulos, Founding CEO of Z Corporation
Gabriel Schmergel, Former President and CEO of Genetics Institute, Inc.
Greg Schmergel, Co-founder, President, and CEO, Nantero
Some interesting tidbits are that the fathers were immigrants, Schmergel from Hungary, Hatsopoulos from Greece. The Schmergels are both Harvard alums; Hatsopoulos' both MIT. A fascinating mix of experiences and lessons learned, including tips on hiring great people, the probabilistic nature of business deals, reverse psychology, and other delighters!
P.S. Photos I took at the MIT Enterprise Forum R&D Pub Reception afterwards! Special thanks to event sponsor
Foley & Lardner
...